Help Make This R.V. Our V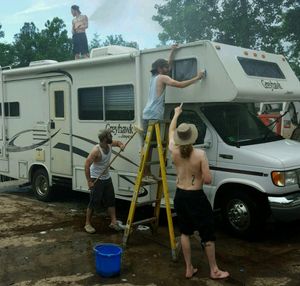 Due to unfortunate circumstances earlier this year, our 6th member of the band and lifelong friend of the OSU family, ROSEMARY, is no longer worthy of cross country travel. It was a bittersweet moment for us all, but we quickly realized we needed to come up with a vehicle to continue touring and fulfilling our obligations. Furthermore, we just wanted to get back to traveling and playing music. Fate extended its hand in the form of a friend's recreational vehicle. This R.V., nicknamed "Sonny",  put us back on the road when we thought all hope was lost. OSU and Sonny saw the entire west coast over the past few months, but now it is time to pay the piper. We DO NOT own Sonny, but it turns out Sonny is for sale. We are asking for your help in keeping us on the road. Any size donation can help at this point, and is beyond appreciated. Your donations will go straight to the funding of Sonny, and unlike a Go-Fund-Me or Kickstarter campaign, 100% of donations come our way.
We found offering private in-home concerts was a fan favorite from our Kickstarter campaign. If you would like to discuss a private acoustic Old Salt Union performance, please contact us at
info@oldsaltunion.com
before
donating. If you would just like to help the cause, please click the button below to donate to Old Salt Union. You can use any major credit card, debit card, or your PayPal account. Your transactions are kept 100% secure through PayPal's servers.
Thank You!
-Old Salt Union